S1E11 - The Warehouse
Shadows of Saint Fleur - Session 10
Apr 8, 2020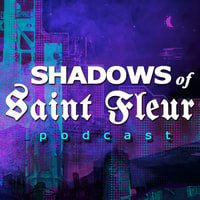 Episode Notes
Hello dear listener, and welcome back to Saint Fleur, where things are getting messy in a warehouse in Warwick.
Silk and Jeremiah team up to attempt to secure Fatima and Cass. Victor lets his wolf side loose to mixed results. And Alix secures a team up of his own.
Thank you to Melissa A Geary for being a patron and supporting us as we continue to bring you this content! Check her out at her website, http://www.melissaageary.com/.
Like what you heard? Make sure to follow us on Twitter @StFleurPod - http://bit.ly/SoSFtwitter. Want to support us continuing to bring you content like this? Consider becoming a patron - http://bit.ly/SoSF-P! Unable to be a patron? Leave us a rating and review on your favorite podcatcher to let others know how much you enjoy what you hear!
Shadows of Saint Fleur is MCed and Edited by @super_landon1 - http://bit.ly/SoSFMC.
Cover art was done by Carys Young - http://bit.ly/SoSF-Art.
Urban Shadows is a tabletop roleplaying game written by Andrew Medeiros and Mark Diaz Truman, and is published by Magpie Games - http://bit.ly/SoSF-MG.
Farewell dear listener! We'll see you next time you visit Saint Fleur.
Find out more at https://shadows-of-saint-fleur.pinecast.co
This podcast is powered by Pinecast.